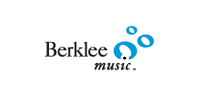 Berklee College of Music
Description
Berkleemusic.com is the online branch of Berklee College of Music, the world's premier institution for the study of contemporary music. For more than fifty years, we've been helping students gain the practical professional skills they need to build successful, sustainable music careers. While our bedrock philosophy has never changed, the music and the industry certainly have. This extension into o…
Berkleemusic.com is the online branch of Berklee College of Music, the world's premier institution for the study of contemporary music. For more than fifty years, we've been helping students gain the practical professional skills they need to build successful, sustainable music careers. While our bedrock philosophy has never changed, the music and the industry certainly have. This extension into online learning is just one example of how we're changing with them.
Branford Marsalis and Quincy Jones. Donald Fagen and Diana Krall. Gillian Welch and Aimee Mann. Steve Vai and Al DiMeola. Members of Aerosmith and the Dixie Chicks. All highly accomplished musicians with one thing in common: they are among the thousands of successful graduates who learned to develop their skills and careers at Berklee College of Music.
More than a College, Berklee is a crossroads where the world's music and culture meet, a singular learning lab for musicians of today and tomorrow. For over half a century, we've been embracing change, updating our curriculum, upgrading our technologies, and attracting ever-more diverse students from dozen of countries. Now, Berkleemusic puts the Berklee educational experience within practical, affordable reach of everyone.
Over the Web, with e-mail, forums, chat, music software and other resources, you can study with Berklee professors, participate in classes, complete assignments, collaborate on projects, soak up new ideas, and showcase your skills to a growing and supportive community … anytime, anywhere.
Take your first step on a remarkable new path of professional and personal growth. Find out just how convenient and rewarding a Berkleemusic course can be.
Experience with Berklee College of Music?
Did you complete a course or program at Berklee College of Music? Help others decide by submitting your review on Springest!
As a thank you, Springest will donate $1.- to the Edukans Foundation.
Submit your review
Submit your review
Submit your review and help others decide. As thanks for your effort we will donate $1.- to the Edukans Foundation.
We help you develop yourself.
Springest is the site where you find anything you need to keep learning. For individuals and organisations. Read reviews from other participants and get help from our learning advisors.
All ways of learning

Help with searching and enrolling

Free information requests

Reviews and participants

Also for your organisation

Book a course